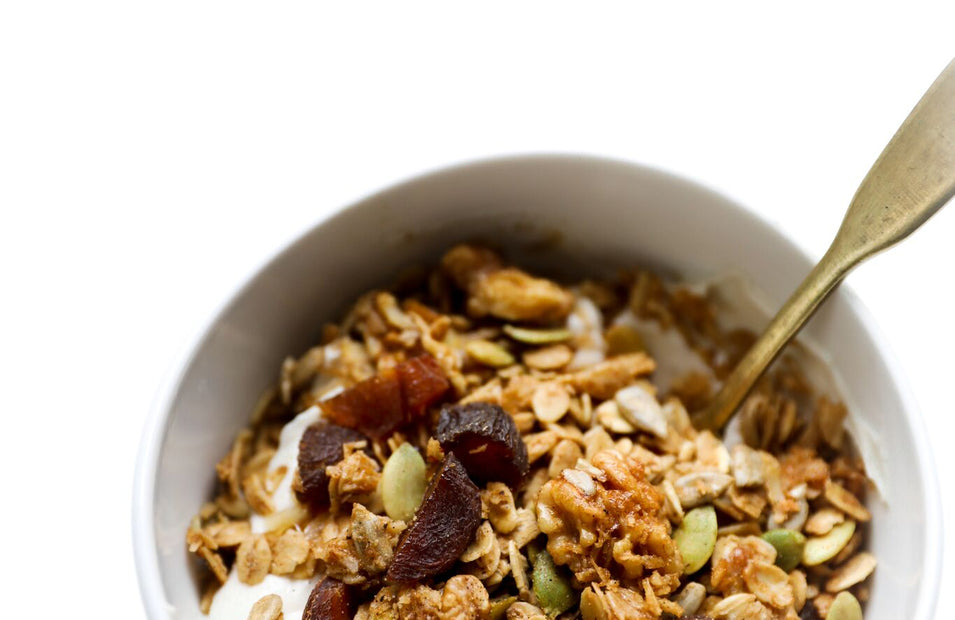 This is a super simple, fresh, nourishing recipe made with your favorite Terrasoul pantry staples. This will be a light and crumbly granola. If you prefer a bit crispier or chunkier version, simply add a little more maple syrup and coconut sugar.
Superfood Granola
3 cups gluten-free, old-fashioned oats
1 cup Raw Walnuts
1/2 cup Pumpkin Seeds
1/2 cup Sunflower Seeds
1/2 cup Shredded Coconut
1/2 cup Coconut Chips
1/2 teaspoon Ceylon Cinnamon
1/2 teaspoon Vanilla Bean Powder or extract
—
1/3 cup pure, organic maple syrup
1/3 cup extra virgin organic olive oil 
1/2 cup Coconut Palm Sugar
1/2 teaspoon vanilla extract
pinch of Himalayan Pink Salt
—
1 cup Sun-Dried Apricots, chopped

Preheat oven to 325 degrees.
Set apricots aside.

In a large bowl, stir together oats, walnuts, pumpkin seeds, sunflower seeds, shredded coconut, coconut chips, cinnamon, vanilla powder, and set aside.
In a small saucepan, combine olive oil, maple syrup, coconut sugar, vanilla extract, and the pinch of salt on low, stirring constantly until mixture becomes a syrup. Pour onto granola and mix evenly.

Place parchment paper on a baking sheet, and evenly spread mixture. Bake for 30 minutes, stirring every 10 minutes and checking to make sure the sides don't become overly toasted.

Let cool. Stir in chopped apricot. Store in airtight container.