LEAVE A LIGHTER
FOOTPRINT
BETTER FOR YOU.
BETTER FOR THE PLANET.
We take our impact on the environment seriously and to heart. Our efforts are focused on responsibly interacting with the planet and its resources, so we leave things better than we found them. The choice to use sustainable farming, renewable energy sources and compostable and recyclable packaging are just the beginning for Terrasoul.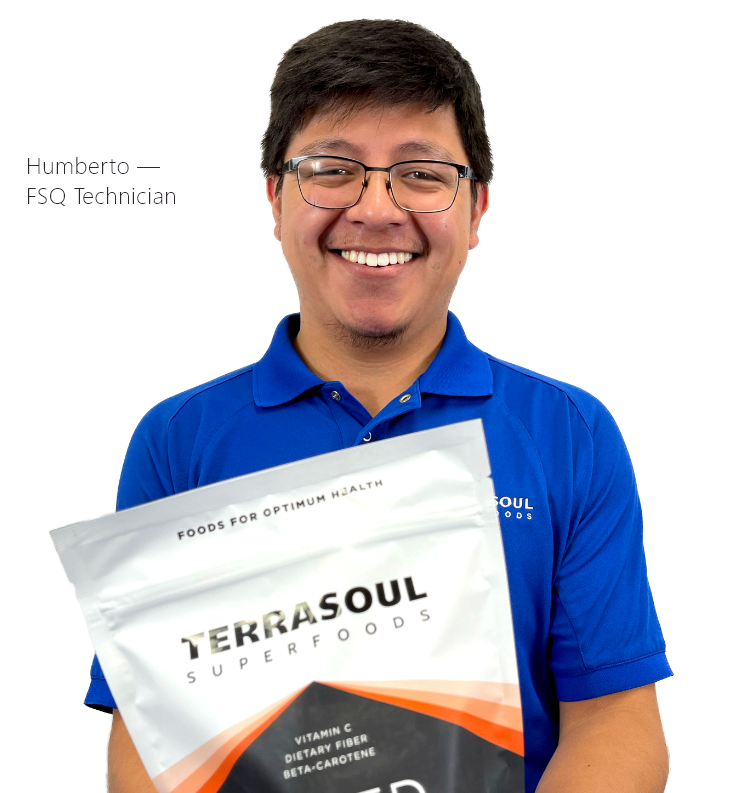 SUSTAINABLE AND RESPONSIBLE
All of our superfoods are certified organic by CCOF, promoting sustainable and environmentally responsible farming, biodiversity, focusing on the cycling of renewable resources, conserving soil and water and growing food without harsh pesticides and synthetic chemical fertilizers.
TALKING TRASH
Sustainability has always been important to us. We experimented with different types of compostable packaging for many years and have finally found a compostable film that not only preserves all of the different types of foods we offer but is also able to protect those foods in handling and transport.

We are currently transitioning our line of products to 100% compostable packaging made from renewable sugar cane. All of our packaging will be 100% compostable or recyclable (shipping boxes/glass containers) by the end of 2023.

Our compostable packaging will biodegrade in a commercial facility within 90 days. It is also approved for home composting by our supplier, but timeline varies greatly based on conditions (humidity, moisture, etc).
REDUCING OUR
FOOTPRINT
We are 100% wind and solar powered and actively reduce our carbon and nitrogen footprints further by participating in recycling programs and using compostable packaging (coming 2023).