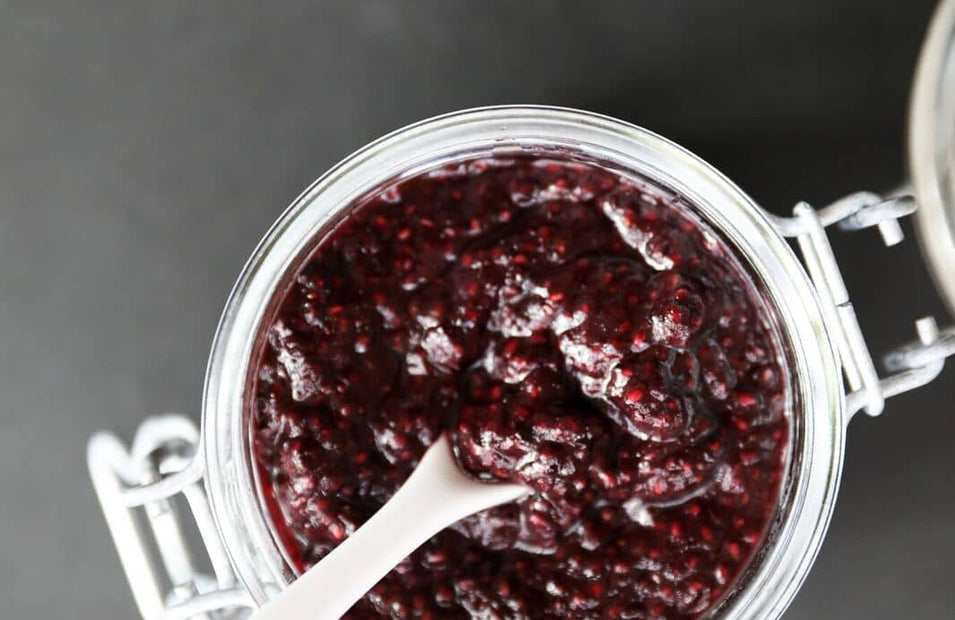 Chia Jams are super simple and fun to make. Cooking tends to bring out the flavor a bit more, but the fruit can be cooked or raw. 
We've chosen Acai powder in this recipe because it pairs perfectly with berries and has a ton of incredible benefits. Acai is an excellent source of antioxidants, dietary fiber, amino acids, healthy fats, manganese, and Vitamin A. 
Acai has been shown to: 
Improve overall wellness & energy 
Contribute to healthy skin
Support weight loss + appetite control 
Aid in digestion
Improve cognitive function
Provide anti-aging benefits
Stimulate the immune system
BLUEBERRY ACAI CHIA JAM
3 cups blueberries
1/4 cup Chia Seeds - Black or White
1 tablespoon Acai Powder
1 teaspoon Vanilla Extract or 1/2 teaspoon Vanilla Powder
3 tablespoons lemon juice
3 tablespoons Coconut Sugar, Date Paste, or Maple Syrup
pinch Himalayan Pink Salt

RAW INSTRUCTIONS
Setting the chia seeds aside, gently pulse all ingredients until you've achieved desired consistency. Stir in Chia Seeds or gently pulse once or twice to incorporate. Transfer to a jar and allow to set. Will keep for one week.

HEATED INSTRUCTIONS
Heat fruit, sweetener of choice, lemon juice, and a pinch of salt on stovetop over medium heat. Bring to a low boil, then reduce heat and simmer gently for 4-5 minutes. Gently mash with a potato masher or wooden spoon. Simmer for an additional 5-10 minutes until juices have thickened. Remove from heat. 
Add Chia Seeds and vanilla extract until well combined. Store in an airtight container in fridge for 7-10 days.